Improvisers Are Awesome, Make The Most Out Of What Is and other take-aways from the 2015 Applied Improvisation Network Annual Conference
T
he
2015 Applied Improvisation Network Annual Conference
started in the beautiful city of Montreal, then moved north to the mountains of Quebec. Here are some take-aways from this week of constant contact with creative people and Canadian culture:
1.
In the mountans of Quebec, there is no wi-fi and very, very spotty cell service. Untethered to technology, one becomes aware of its power. A week without it felt similar to when I quit smoking,
except technology connects me to a world beyond myself, and smoking connected me to a host of avoidable diseases. With neither wi-fi nor cell service,
I was aware of a part of my brain that kept searching for them, until that craving was replaced by an indescribable openness to experience and a release from the need to know what would happen next.
2. When walking in Montreal with no agenda about what to do next and a determination to enjoy the present moment,
sometimes you discover
something special to think about (Rodin show at Montreal Museum of Art)
3. When improvisers encounter unexpected schedule changes, delays and uncertainties, they help each other out. They make the most out of what happens. They create.
4. Living in a chalet with strangers for a few days opens the door to deep connection with people you might not otherwise have an opportunity to know. And not only do they
do not complain when you develop a tubercular-sounding, hacking cough at about 5 am every morning because of some crazy allergies,
they express genuine concern and a caregiving spirit..
And by you, I mean me. And my chalet-mates were Tina and Nadine.
5. When Montreal conference organizers ask about food preferences, all food needs are met with spectacular style and delicoiusness. Vegans, vegetarians, pescatarians, and every variety of arians as well as carnivores were abundantly provided for. And sometimes dessert was, oh I don't know, after an insanely good meal outside and high up in a mountain town, something
like this:
And yes, this is a ginormous mountain
of chocolate.
6. When you push yourself to perform in Improv Maestro, an audience of a couple hundred improvisers makes you feel lik a rock star onstage at Madison Square Garden. And by you I mean me, but I bet I speak for all the other players on that stage.
7. If the world were populated by improvisers, people would have the skills to work together on problems and be effective, even if they do not know one another well. Or at all.
8. If the world were populated by improvisers, people would listen closely to what others are saying without imposing their own agendas or prejudice.
9. Improvisers have a high vision of what is possible for humanity and are determined to bring the improviser's skills and mind set to the effort to realize that vision and reach as many people as they can. And start by meeting these people exactly where they are.
10. When you go up a mountain when the moon is full and take a picture of your husband, it can look like he is
possessed by a spirit. Or the moon is growing out of his head.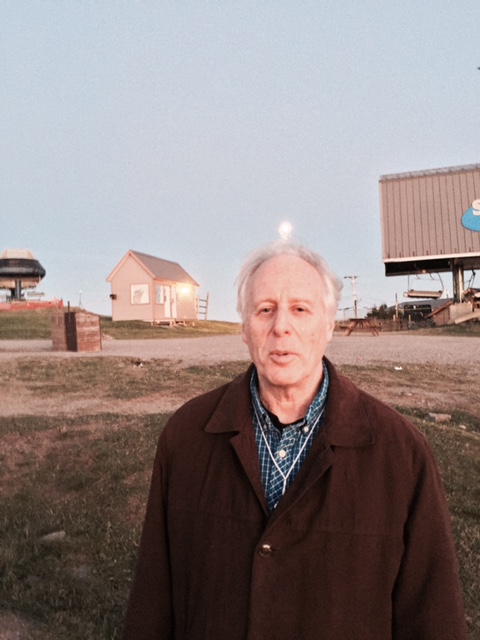 Yes...And....Presenting a 9:00 am talk and then workshop on the last day of an AIN conference is an unexpectedly rich and rewarding experience. Because improvisers are tireless! And possibly bionic. Fueled almost entirely by their astonishing life force and no doubt triple dose of caffeine, they
showed up in droves for the Sunday morning events after a night of mountaintop partying. Here is a link to the power point for my presentation
"The Art of Storytelling and How It Can Help Make A Better World."
One of my fellow Improv Maestro players, Amy Lisewski from San Diego, CA wrote a brilliant blog post about her take-aways from this conference: Let Go. Notice more. Use Everything. "
As improvisers, we aim to let go of our agendas and "notice more." We practice being fully present so we can notice what is happening in every moment as we build scenes. We look for every offer, pick up on tiny changes in body language, and listen for shades of meaning. Everything we notice we honor and use in our scenes, because
everything we need is found right here in the moment." read more
Jude Treder-Wolff is a trainer/consultant and writer/performer. She is host and creator of (mostly) TRUE THINGS, a show that features true stories - with a twist. Follow her on Twitter.